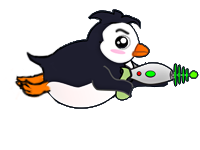 Penguin Revolt
A downloadable game for Windows
Penguin Revolt
Created in 48 hours for Global Game Jam 2017
Sinopsys
Irvyn lost his dolphin friend Flippy due to the great levels of pollution existing in the sea. Disgusted with the situation, Irvyn decides to stop the pollution with his own means equipped with Flippy´s sonic gun and filled with a lot of courage to explore the ocean floor, he makes his way disintegrating all the garbage.
Controls
Arrow Keys: move Irvyn;
'X': Jump;
'C': Shoot the sonic gun.
'ESC': pauses the game.
Credits
Carlos Henrique Leal da Cruz: GD, level design;
Davi Santos: GD, programming, additional art;
Gisele Minatorwicz: GD;
Keli Cristina Leal da Cruz: GD, art;
Leonardo Lima: music;
Stefanny dos Santos Machado: GD, art;
Victor Kalckmann: sfx, music;